Frequently Asked Questions
Race Registration
1. Who can run the 5k Family Run race?
EVERYONE!! 5k Family Run event is a family-friendly event for runners and walkers of all ages and fitness levels. Come and see, and you might just surprise yourself. It's fun for everyone and we have an exciting Fall Festival at the finish for you all.
2. Can walkers sign-up?
Yes, walkers are encouraged to participate in the 5k Family Run event.
3. Will there by same day race registration?
Yes, we will be providing same day event registration.  Please come early to ensure you will have time to register and get ready for your event. Registration closes 30 minutes before each race.
4. Where is packet pickup?
Bib pickup and registration is available on race week in Napa, St. Helena, and on the Pacific Union Campus, as well as on Race Day.
Bib pickup and registration is available:
Friday, May 4 between 3:30 and 5:30 at St. Helena Cyclery, 1156 Main St, St Helena, CA 94574
Saturday, May 5 between 8:30 and 9:30 at the PUC Campus Center on the PUC Campus.
Sunday, May 6 (Race Day!) after 7:30am at the Start on the Athletic Track & Fields on the PUC Campus.
5. Can someone else pick up my race packet?
Yes, as long as you've completed and e-signed the race waiver during registration, a friend or family member can pick up your packet.  If the waiver was not completed, you will need to pick up your packet in person.
6. How do I know if I am registered for the event?
If you have questions about your registration, please email us at angwintoangwish@puc.edu.
7. Will you provide a refund or transfer my registration if I am not able to run on this day?
Unfortunately, we cannot issue refunds. If for some reason you can't make it to race day, you may transfer your registration to another participant by sending a request to angwintoangwish@puc.edu by 5 p.m. on May 1.
The Course
1. Are maps of the course available ahead of time?
Unfortunately, because the race takes place on private property, maps are not available for distribution.
2. How is the course marked?
The course will be marked on race day only with signage, ribbon, and chalk on the ground.
3. Do I need to wear trail shoes?
The races will be run on almost 100 percent trails.  The dirt course is maintained, but can be rough in spots. Trail shoes are desirable but are not mandatory.
4. What is the 5k Family Run terrain like?
The 5k Family Run course is mostly flat with a few minor hills. Participants will race over meadow trails, alongside vineyards, and through wooded paths. It is suitable for walkers, young children, those pushing running strollers, and runners alike.
5. Will there be aid stations for this event?
Yes, water will be provided at multiple aid stations all race routes. Stations will have water, an electrolyte drink, and energy gels available.
In addition, healthy snacks and water will be provided at the finish line for all participants.  We encourage participants to further refresh themselves at one of the many Napa Valley eating establishments.
6. Does the course close?
There is no set time limit, but we do expect participants to complete the 10k within 2.5 hours and the half marathon within 4 hours.
Course Rules
1. Can I pre-run the course?
No, the course is closed until race day.
2. Can I push my child in a stroller or baby jogger?
Running strollers and baby joggers are permitted on the 5k Family Run course only. This is a trail race, so please make sure your stroller has wheels specifically designed for rough terrain.
3. May I listen to my music during the race?
No, for the safety of our runners, any kind of music device in the ears is Not permitted.
4. Are dogs allowed on the course during the race?
For the safety of our runners and animal friends, we do not allow dogs or other pets at the event or on the courses.
Race Day
1. Where do I check in?
Race Day check-in will be at the Athletic Track and Field, just off La Jota Drive on the PUC Campus.
2. What should I do on race day?
Pre-race:  Give yourself plenty of time to get to the race location, park, and warm up. Ensure that you have your bib securely attached to your shirt and visible to event officials.
Post-race:  Stretch, hydrate, and participate in all of the post race activities—get a massage, re-fuel with the amazing food provided, cheer on finishers, and meet students and representatives from PUC.
3. Do you have a place I can store items while I run?
Yes, we will be providing bag storage during the race. Before your event, you may drop-off your pre-race/post-race clothing and belongings at Gear Check.
4. What happens if it rains?
The race will take place rain or shine; however, if there is inclement weather such as lightning or some other kind of severe weather there will be a posting on the website three hours prior to the race start. Please check the website the day of the race to confirm.
5. Where can I park my car on race day?
The PUC campus offers ample parking. Additional parking is also available across the street in the Angwin Plaza.
6. Are there restrooms available pre-race? On the course?
There will be portable restroom facilities available for your convenience near the check in station. Restrooms are not available on the course.
7. Where does the 5k Family Run start?
Registration and check-in for the 5k Family Run is at the same location as the other events. Hay rides will transport participants from check-in to the start of the race near the Angwin Airport.
8. How will the race be timed?
The 10k and half marathon races are chip timed. The 5k Family Run race is "gun" start timed.
9. What should I wear?
May in the Napa Valley is a beautiful month, but weather can sometimes be unpredictable. Runners should be sure to wear multiple layers, as the temperature can rise significantly from the start to the finish of the race.
10. What is the weather typically like on race day?
Napa Valley May mornings can start cool around 55 degrees and reach temperatures in the 70s by race end. Rain is always a possibility.
11. Where can my family and friends watch the race?
Family and friends are encouraged to cheer you on at the Start/Finish area next to the Athletic Track.
12. What kind of awards will be given out?
Awards will be given to the male and female overall winners for both the 10k and half marathon.
Awards will be given to the top three finishers of the 10k and half marathon in each of the following male and female age groups:
Under 19
Ages 20-29
Ages 30-39
Ages 40-49
Ages 50-59
Ages 60-69
Ages 70+
5k Family Run awards will be given to the top three finishers for both male and female categories.
All registered children 12 and under will each receive a finisher medal upon completion of the 5k Family Run race.
Other
1. Who does the race benefit?
The 10K & half marathon races benefit Pacific Union College, specifically our programs for our students and our communities. We invite you to learn more.
2. Where can I stay?
As one of California's top tourist destinations, Napa Valley offers many wonderful places to stay. We encourage you to bring the family and enjoy the weekend. Visit www.sthelena.com or www.visitnapavalley.com to review local lodging options.
3. What if I have a super important question that isn't answered here?
Please contact us at angwintoangwish@puc.edu. We will reply with an answer as soon as possible!
About The Course
Pacific Union College maintains over 30 miles of hiking and biking trails. The Angwin to Angwish trail run will take place on smooth to medium-rough trails and service roads with double and single track. A challenging run over hills, the run includes intense climbs (1,000 feet vertical) at the longer distances. The run is held on private land owned by Pacific Union College; there will be no pre-runs and the course will be closed on Saturday, October 24.
Race Start Times
Half marathon Run 9am
10k Run 9:20am
Family Run (4k) 9:30am – Announcement below
Announcement to all 4K participants:
Please be ready at 9AM for transport to your starting area.  All 4k participants will stage near the track to be transported VIA HAYRIDE to the Angwin airport where the 4K participants will start at approx 9:40am.  If you choose to go directly to the airport, there is very limited parking near the airport.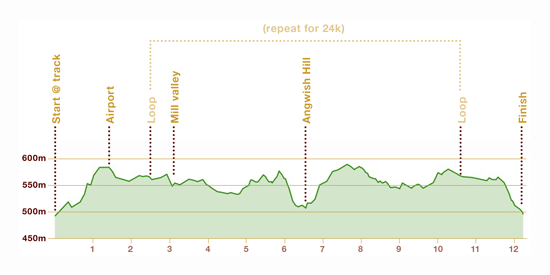 Race Location
The race will begin and end on the main campus of Pacific Union College.
Pacific Union College One Angwin Avenue Angwin, CA 94508